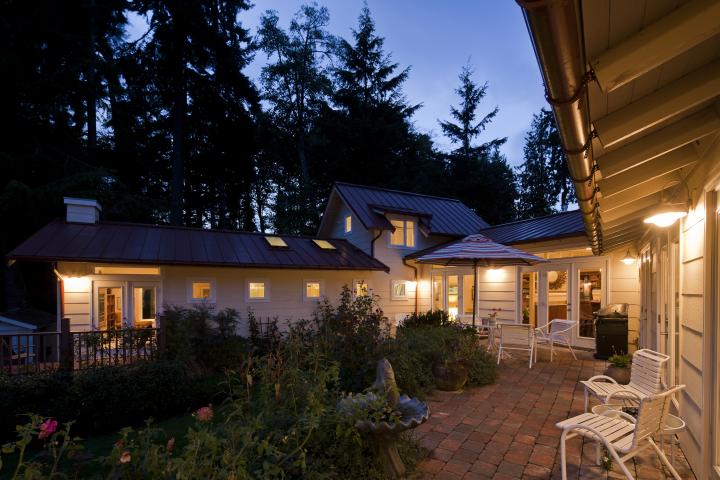 With a strong sense of what they wanted to achieve, but needing an architect to help them realize their dream, Bill and Liz Knobloch approached Lost Arts to design for them a new house to be built on a site next to their current home on Bainbridge Island.
Owing to its location in an residential neighborhood and its proximity to the street, our clients wished for privacy but equally important to them was good orientation to the south sun to brighten their interior spaces as much as possible during the grey days of our long Pacific Northwest winters.
Analyzing various features of the new site and using the Knobloch's valuable insight, we provided them with a range of conceptual ideas during the preliminary design stage, finally arriving at a unique floor plan that provided good solutions for the project requirements: a comfortable separation between Bill's office and the private areas of the house, an entry court/garden that helps to buffer the house from the street, and a large sun-filled and private 'inside yard' defined by the house which surrounds it. The varied outdoor spaces created by the unusual shape of the architecture also offered a great opportunity for Bill to show off his considerable gardening skills.
After having provided our clients with a unique design concept in realized form, Bill made the decision to undertake the formidable job of contracting his own home and did so with great success.  Further, with only some general design ideas from Lost Arts, the Knoblochs went on to select and coordinate all of their interior and exterior finishes as well.
photography: Ko Hata