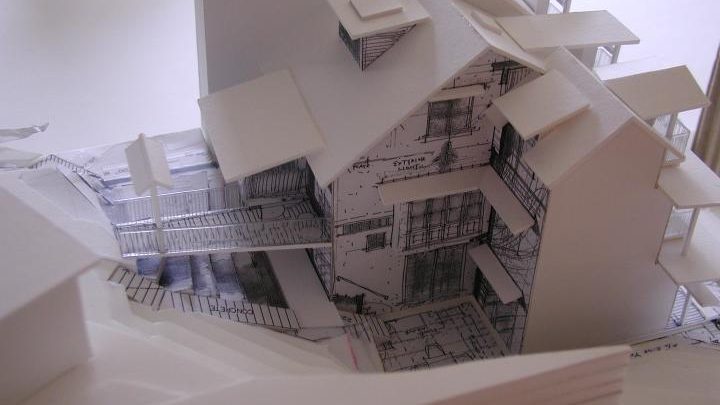 When Lee and Jennifer Telnack saw a magazine article featuring a wood beamed waterfront house on Bainbridge Island with a series of sliding doors which opened completely to the waterside, they knew the architect would understand what they had in mind for their own site and contacted Lost Arts.
Theirs, a small existing South Sound waterfront house built early in the century, needing demolition, and due to shoreline regulations, rebuilding on the same footprint. Design challenges include a steep, narrow lot with a 23 foot height difference between garage and original entry and a 50 foot lot width complicated by a tall angular house sitting less than 10 feet from their exterior wall. To address the height difference from the parking area to the entry, we proposed a new bridge to span across the steep slope from just below their garage level to an entry 'genkan' located at the center of a new three story residence.
Down an open stairway from this entry, the main living area is located at ground level, while the private adult and children's spaces are stacked above, each with its own water views and accessed by this same open, light-filled stairway. Owing to their love of entertaining friends and being avid water sports enthusiasts, a direct and comfortable interface between their main interior and their outdoor living spaces, including a boathouse and the beach, is essential to this family of four's lifestyle. Equally important to them are healthy and environmentally responsible design solutions embodied in the idea "Natural House".